In the late autumn, the Nova Games mobile game publisher launched their new flagship project. It was created by Ukrainian developers Velcro Games and released worldwide under the title of «caRRage — wheels of war». This is an arcade racing game that is simply meant to become a successful product known worldwide. And I will explain why. First, the racing genre always attracted a wide audience of gamers: It just so happened that almost everyone likes to drive. And the second: if the product features high quality, significant difference from fellow genre representatives, high-end graphics and the vehicles are intuitively controllable, such game has no other options but to rock the charts. This game has everything listed above and even more.
CaRRage – is an arcade 3D-racing game with post-apocalyptic graphical setting and focused on multiplayer. Do you remember the good old Rock'n'Roll Racing? If you do, you will be pleasantly surprised: caRRage – is a very similar game, but of higher quality and complies with all modern trends (first of all, in terms of technology).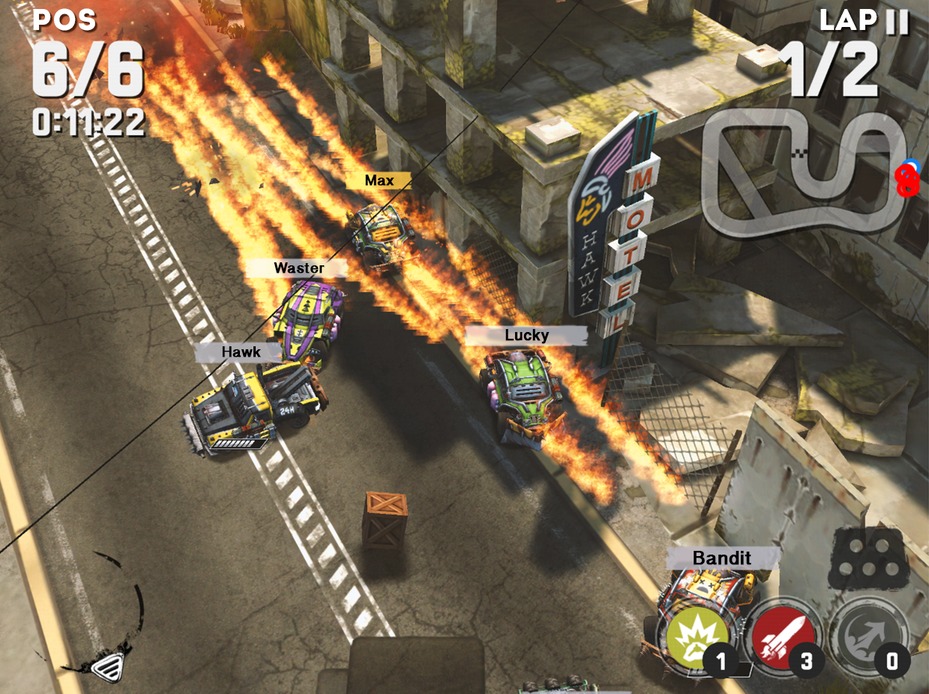 The game was designed to trifles, and it is clear at a glance. Excellent 3D-graphics of Unity engine and thoroughly designed locations with lots of details, such as a huge excavator or a retro gas station, captivate instantly. The action takes place on a territory of constant meteor shower: the Industrial area, Desert, Amusement park, Metropolis and more.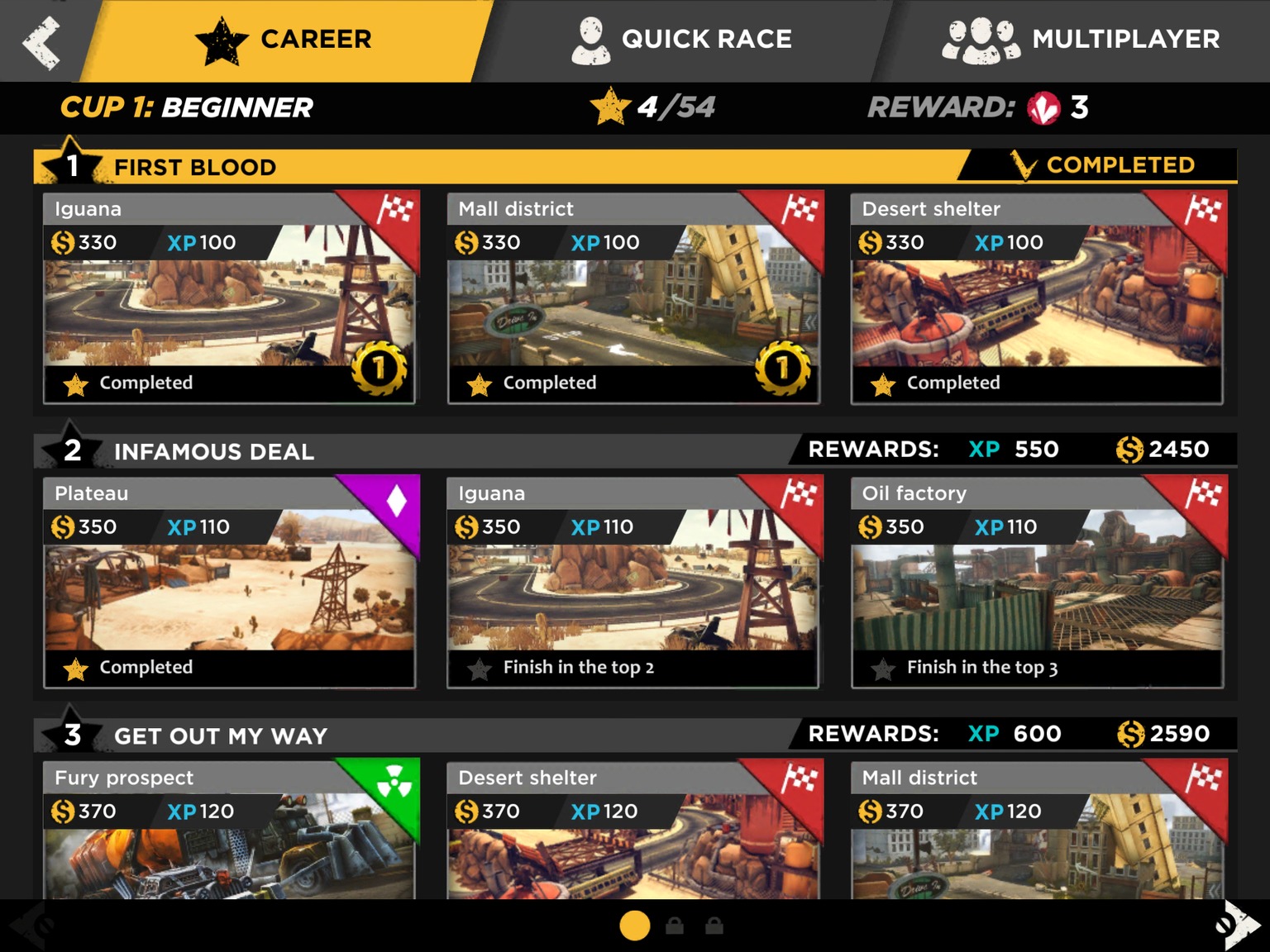 Isometric camera view and breakneck dynamics plunge you into the world of arcade racing and makes you believe, that you are really taking part in a dashing race. A word about the sound: roaring engines, whistling tires and the deafening clashes make the action feel even more realistic.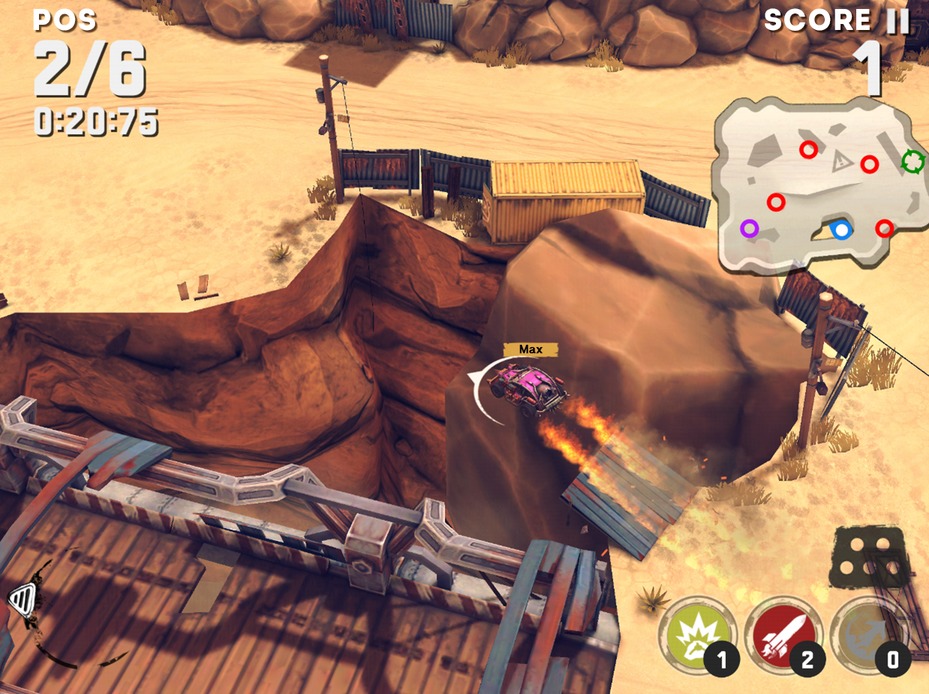 CaRRage offers three main game modes: Career, Quick race and the favorite – Multiplayer that lets you challenge your friends via Wi-Fi. Actually, multiplayer is one of the key features of the game. This mode allows up to 6 players simultaneously in one race via Wi-Fi connection. The full-scale internet multiplayer with tournaments and various leagues is also announced in the closest future.
First of all, the Career mode deserves the most of attention. At the bottom of our career ladder we get the lowest class vehicle (sort of a «rust bucket») and we'll have to show our skill driving it. As we progress through the game and complete various missions we gain experience points and raise money, needed to upgrade your vehicle or buy a new one.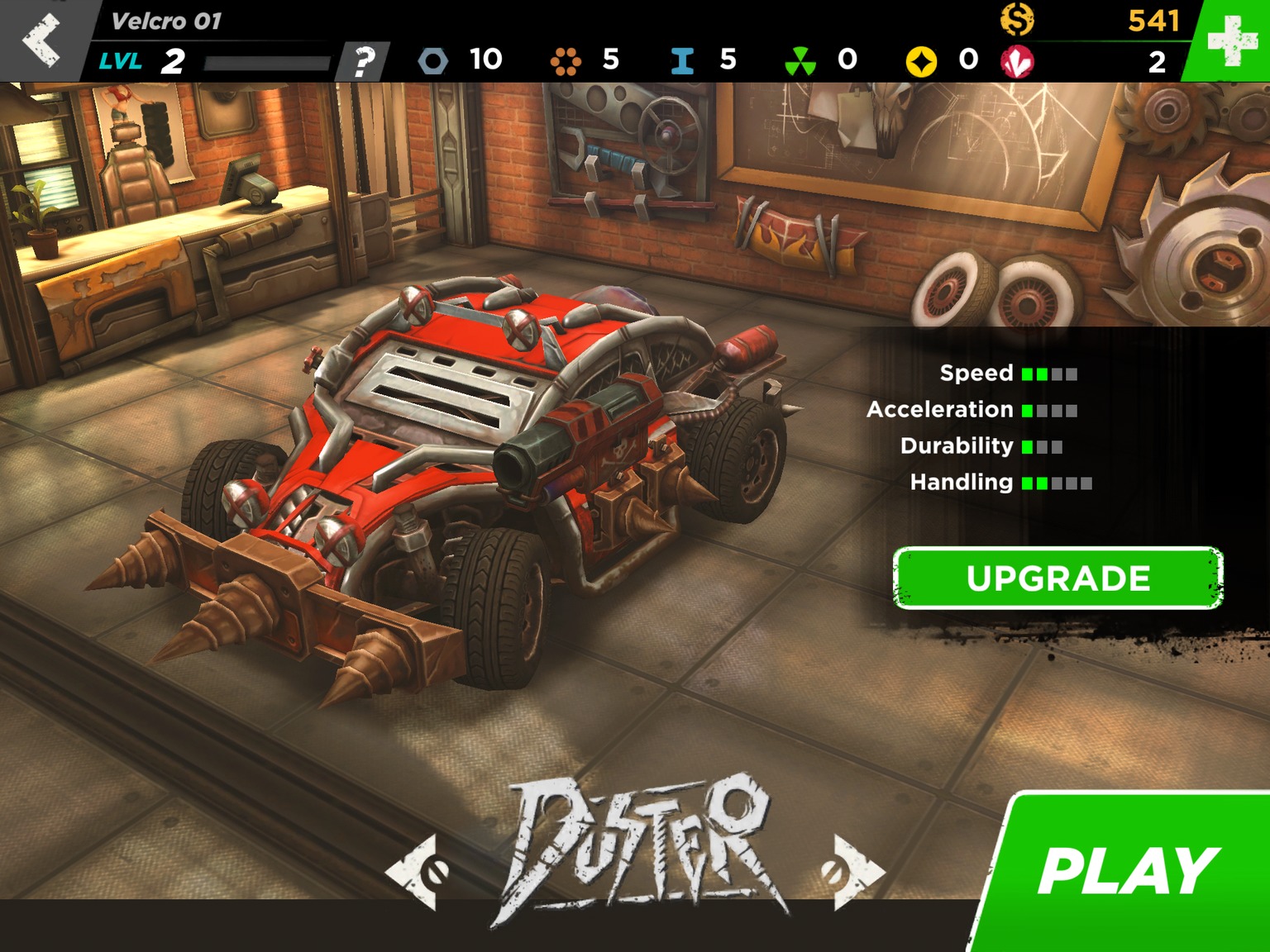 CaRRage features a wide range of car customization options. We can evolve all of its parameters, such as maximum speed, acceleration, handling and durability. It is also possible to improve our style and power, adding a variety of scary elements of the exterior that also cause increased damage to the enemy.
Moreover, the look of the vehicle can be customized, according to our own aesthetic preferences, we can choose the color, add body kits, etc. The game truly has enough space for imagination. There are plenty of upgrade options available – we just need to make enough money.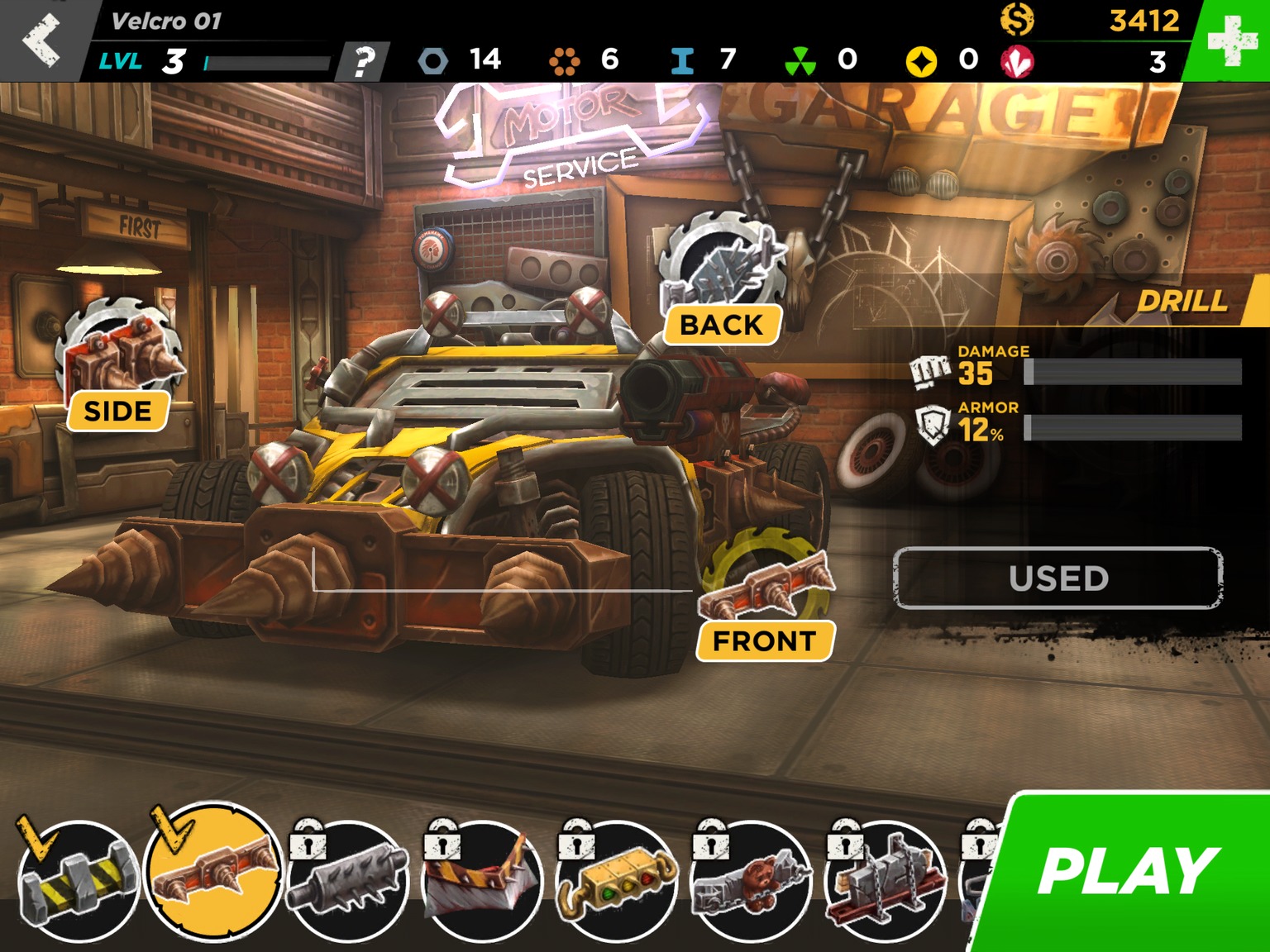 And if we're tired of our old ride, or it doesn't perform well enough to cope with the tough game challenges we can always buy a new, more powerful and advanced one. As for the vehicles featured in caRRage – they are awesome! Here you can find the most unexpected, daring and wild-looking specimens.
In the Career mode the player is offered a large number of levels grouped into the Contracts, and three Cups. Winning each Cup unlocks access to the next one. The number of laps and opponents in the race vary as well as racing tracks. Some of them will have us takeover and destroy opponents, others will demand us to deliver a cargo safely, and sometimes we'll need to collect falling meteorites and transport them to the destination point to complete the Contract.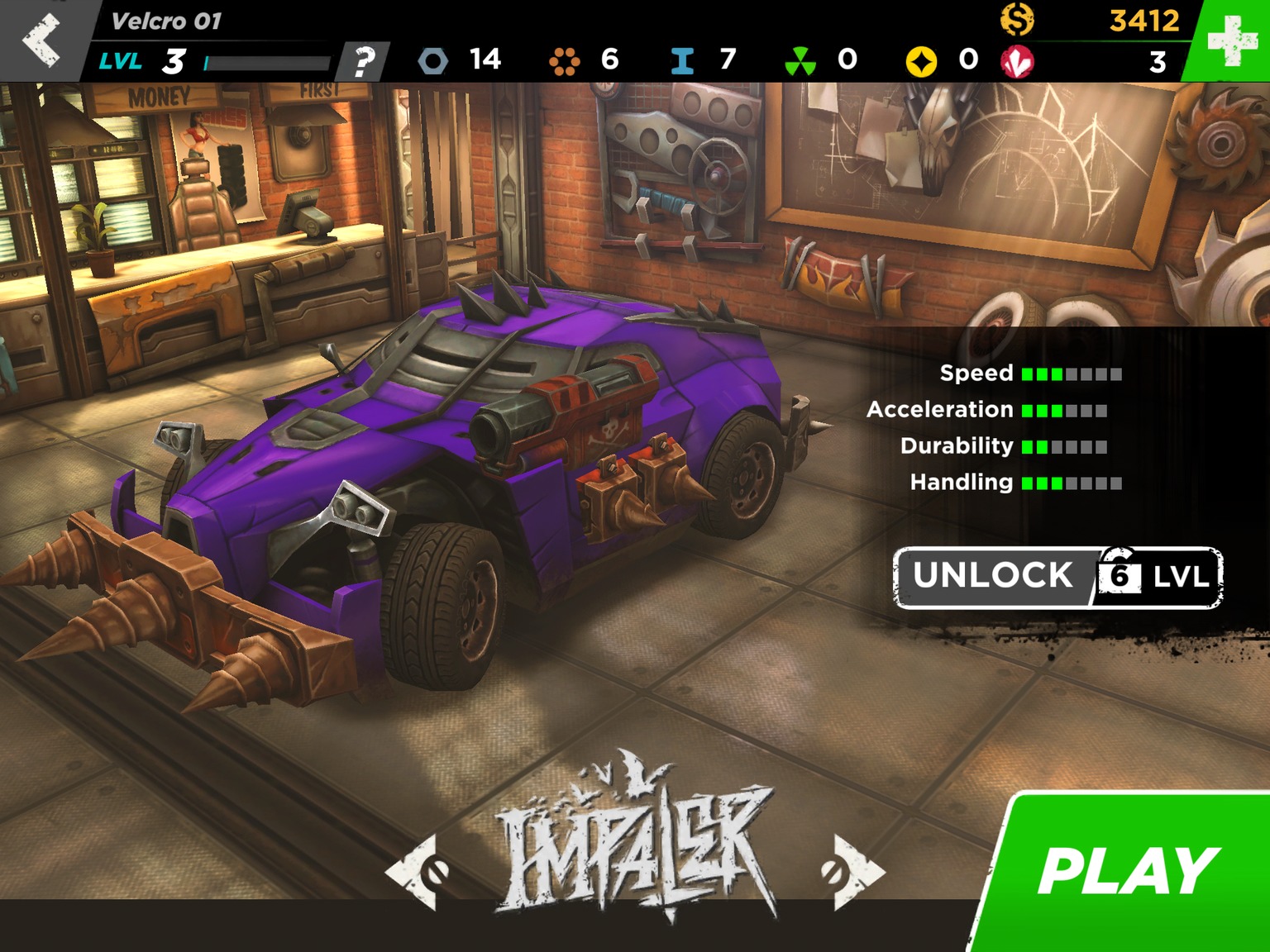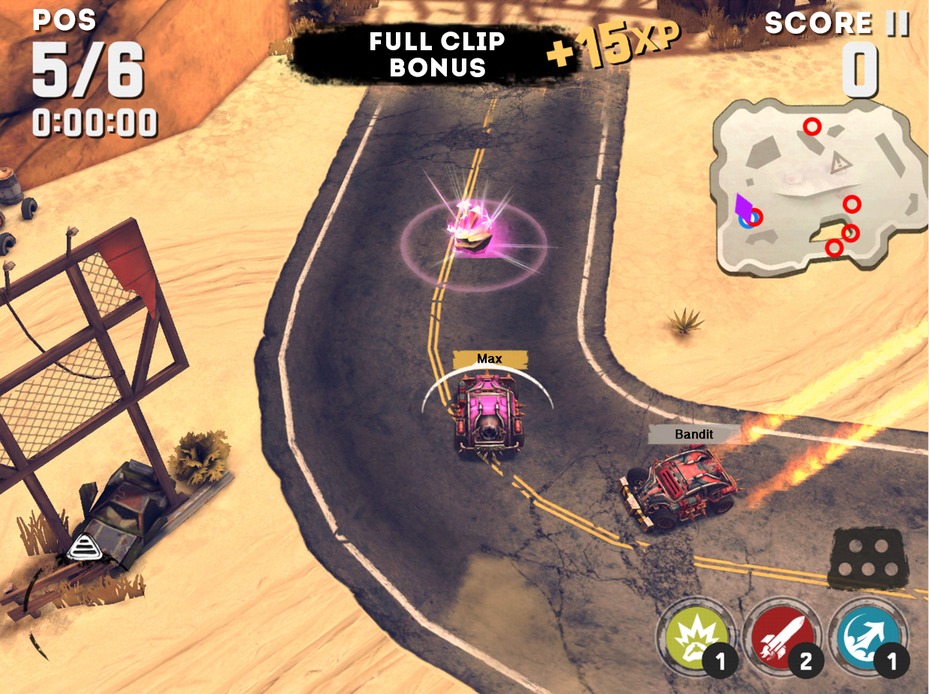 As for me – I'm a fan of the Cargo Delivery mode, because here we drive a huge, MadMax-style truck and wipe out «tiny» opponent cars on our way, that are constantly trying to interfere with our delivery. Furthermore, we also have to keep the cargo in one piece!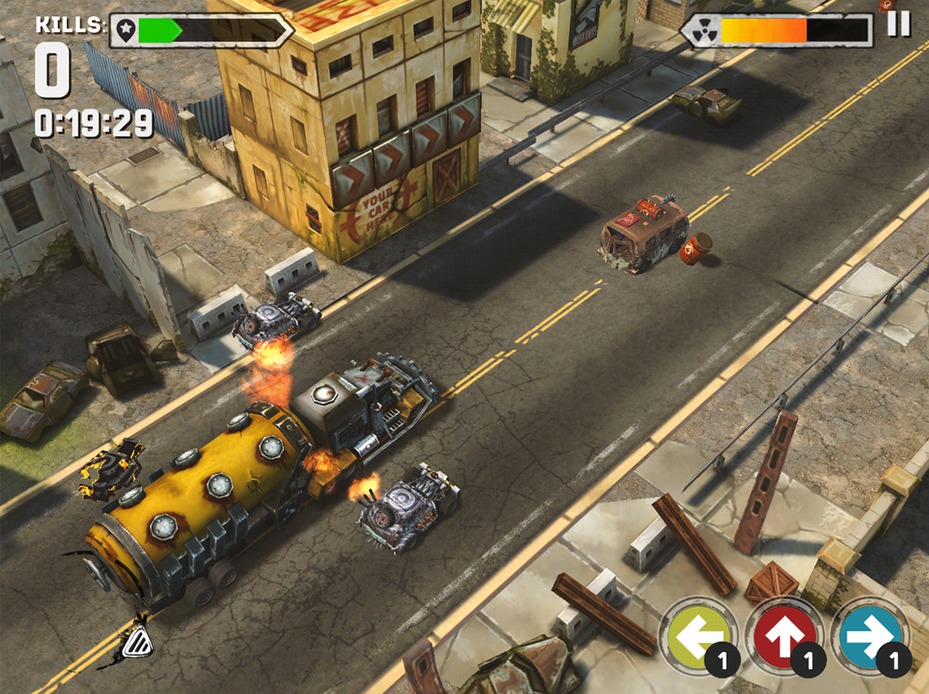 How are we going to destroy enemies? Oh, there's a number of options. Firstly, we can use a rocket — the most reliable means to get rid of the opponent on your way. Then, there is always a chance to give your opponent a low blow, placing a mine on the road to shake him off your tail. Ramming enemies may also be efficient — that's why we equip the car with special gear to enhance the damage inflicted. Weapons and boosters can be replenished during the race by collecting special boxes on the road.
And for the dessert, pay attention to the environment that can be used as a trap itself. Shoot fuel barrels to cause explosion or collapse scaffoldings, bridges, etc. by ramming them into the right place. Yes, the race gets hot pretty quick turning the track into a real battlefield, so we'd better be sure to spend some money on upgrading amplifiers, such as acceleration or invulnerability that can be of much help to player very often.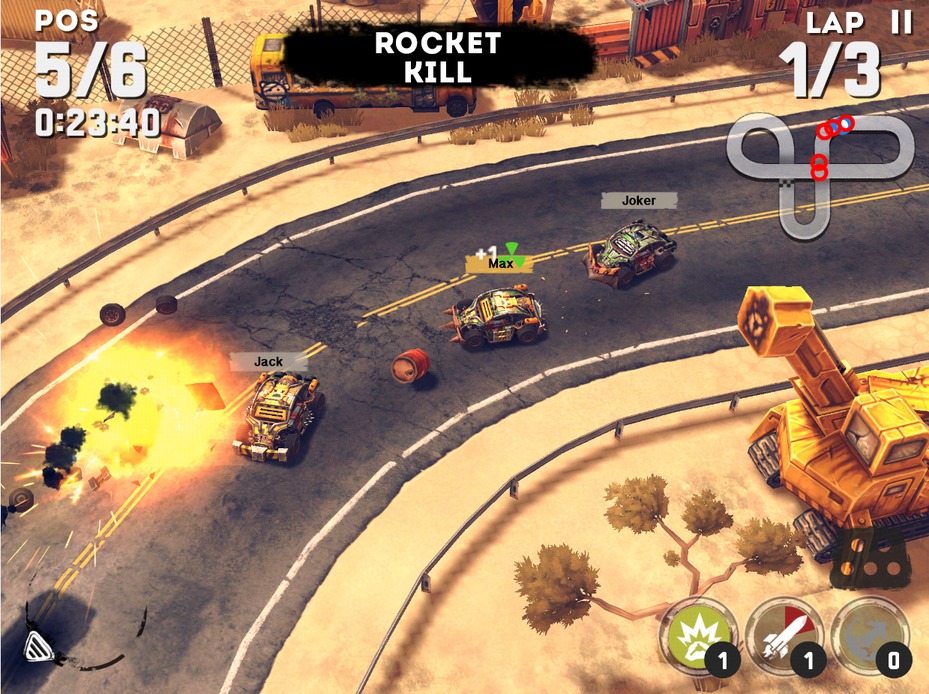 The game is notable for its realism, partly because of the steering wheel controls, though there is an option to use classic arrows or a virtual joystick to control the ride. Anyway, the player is completely transferred into the game atmosphere and becomes a part of the madness that is constantly going on in the caRRage. Yes, madness it is! One can't describe it any other way: explosions, numerous obstacles, dangerous turns and wild opponents, that's where the real fun is. The game is very exciting and keeps the player on his toes.
Of course, caRRage isn't the first game of such genre and, somewhat, it reminds of the Reckless Racing, but be sure: caRRage is incomparably better. The developers managed to create something truly unique and having no analogues (if we talk about the game modes), that is exciting and maintaining tension all the time. The main benefits include powerful and beautiful visuals, well-balanced gameplay, the diversity of missions, tracks and vehicles, as well as the unique scheme of annihilating enemies and surrounding environment. The multiplayer mode is a huge bonus that can gather a noisy company around itself and bring unlimited fun, excitement and adrenaline to every player!